Kate Middleton's Body Language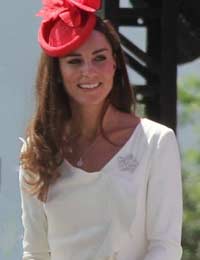 An estimated 3 billion people saw Kate Middleton marry her prince charming, William, Duke of Cambridge, on April 29, 2011. No doubt a questioning world wants to know more about the girl who appears so polished and regal in public, yet surely must remain somewhat guarded about her real self to help preserve the image of the royal family.
The answer to those questions is through body language. While one can cover his or her real feelings with speech, or lack thereof, a person's body language always reveals their real feelings.
The Princess
Even simple things can give us a glimpse into a very private Kate. Body language expert David Alssema notes that Kate often plays with her hair in public, especially when photos are being taken. This is a form of body language used by many women and some men to handle pressure and still feel like they are in control.
The Perfect Royal Wife
It is well known that the royals want to uphold their majestic image, so you have to wonder - are Kate and William really in love or is she a show-princess, as many felt Princess Diana was? Diana was beautiful, young, likeable, and entrancing to the world, yet as the story unfolded, we all learned she was not the love of Prince Charles' life. Is this the case with Kate and William?
According to analysis of body language, the answer is no. Dr. Lillian Glass, a well-known Beverly Hills body language expert, says that part of the reason Kate appears so regal and controlled in public is because of her love for her young groom. You often see the couple pictured side-by-side, leaning in to look at each other, and maybe even holding hands. These are signs of a couple that truly enjoy each other's company.
Based on body language, Kate feels a part of the situation, yet she also knows how to defer to her husband, the future King of England. As the Duchess of Cambridge, Kate is comfortable in her position and at the same time, respectful of her husband's obviously more dominant role.
Kate took etiquette training to learn how to act in public, but it's doubtful that even training as intensive as that could have conditioned her to react with the love and respect she shows for William. At times, with her husband, Kate will take a dutiful position, stooping a bit lower to allow the William dominance over the moment. This shows both respect and compassion in letting William take the spotlight and appear in control.
Both William and Kate instinctively know how to relate to others. Both use strong eye contact to convey that they are genuinely interested in what someone else has to say.
A Couple in Love
The couple often shares the same facial expressions, letting us know they are in synch with their ideas and emotions. The public sees them smile at each other and laugh at their own inside jokes as they fulfil their royal duties. This is an obvious sign of a couple in love, not one just together for show.
There are signs too that William loves his wife and sometimes defers to her. At times, her body language signifies that she is taking centre stage over her husband. The tilting of her head and her moving slightly forward from William are body language symbols of strength and although she may not do it often, when she does, William happily accepts it and lets her shine in the spotlight. His posture and facial expressions let us know that he is happy to remain briefly in the background while the focus is on Kate.
Children in the Future?
As her mother-in-law before her, it appears that Kate will one day be a wonderful mother. After all, producing future heirs is a very important job of a princess. Kate and William have visited children's hospitals and cancer wards during their first six months of marriage. During these visits, it is obvious by her body language that she knows how to connect to children. She understands the importance of relating to children physically on their own level. She also uses facial expressions such as an open mouth and wide eyes to endear herself to children, much as a mother would.
It's always hard to know what the future holds, but based on her current body language, Kate Middleton appears to be very happy in her position and very much in love with her husband. Many hope that this couple has a bright and long future filled with happiness and children.
You might also like...