If a Person Sits on One Leg, What Does This Mean?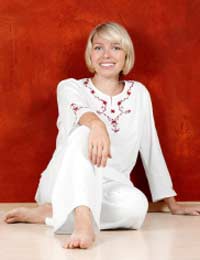 Q.
While sitting, what does it mean when a person sits on one of their legs while the other rests normally on the floor?
Also, what does it mean when a person shakes their leg?
(Mr Vincent Thai, 29 January 2009)

A.
One leg gesture you often see is that of people sitting with one foot tucked under the other leg. This is viewed as a very informal, comfortable position. Many people like to sit like this at their desk, just as a break from sitting with their legs hanging straight down or crossed. Sometimes sitting this way even raises the other foot off the ground and people swing that foot.
If you find yourself talking to someone who is sitting like this while talking to you, you may find yourself wondering what it means. Chances are that he or she feels very comfortable with you and is interested in what you have to say and getting to know you better. More than likely, his or her knee will be pointed towards you, letting you know in a non-verbal way that you are the one that has all of his or her attention.
Usually, women are more likely to sit like this than men. Perhaps one reason a woman is more likely to assume this sitting position than a man is because when a man is interested in someone, he usually sits with his legs open. A woman is typically taught that sitting like that is not well-mannered, so sitting with one foot tucked under the other allows her to show an open, attracted stance while still not feeling as if she is sitting impolitely.
Many people unconsciously shake one leg while sitting. This is usually a sign of nervousness or restlessness. Even if a woman is sitting on one foot, which is an informal stance, she may shake one leg because, if she is interested in you, she may be shy and the shaking is just a way to let out nervous energy. Some people are just naturally fidgety. If they are not shaking their leg, they are tapping their fingers or playing with their hair.
While seeing someone shake their leg may look a bit odd, some studies have shown that those who shake their legs like this are actually burning calories. While it is not like walking or running, some studies believe that people who shake their legs during the day may burn as much as 100 extra calories as those that don't.
You might also like...
No deep psychological reason for using this position. Im 4'10". Hate my legs dangling. It cuts my circulation at the thigh. It's a world for people 5'2"-6'0"
Is just comfortable, and a habit, nothing more.
guest
- 8-May-18 @ 3:28 AM
What does it mean when somebody has a habit of setting one of his feet up on a chair or a stair or bench when he is talking to people seated on those surfaces?
meli
- 7-Oct-17 @ 8:51 AM
Why? It feels good. It's like a mini stretch, putting pressure on either of your legs.
Stoshy
- 7-Oct-17 @ 3:01 AM
What about health concerns/ issues ..from sitting on it too long and too often? :/
I have sat like this 24/7 since I was around the age of 10. I shake my legs continuously regardless ( due to my ADHD I assume) does that mean I feel comfortable in every social situation?
Ren
- 12-Mar-17 @ 9:11 PM
@KReus. I do this to relax too. It's just a change from sitting with both legs on a chair all day. Never done it long enough for a dead leg though :-)1
deadleg
- 7-Oct-15 @ 12:14 PM
I'm a 25 year old guy and I do this more often than other. Sitting with my legs apart I usually do when I am about to leave the situation in in at that time. Usually down to anxiety as I suffers very badly from this. Sitting on one leg I do when I relax. Sometimes for too long and legs dead for quite some time. Haha
KReus
- 6-Oct-15 @ 10:56 PM
I remember seeing girls in school sometimes sitting like that. With the right leg hanging off the chair(sometimes even in a skirt which did not seem appropriate if it was above the knee)