Body Language And Common Business Situations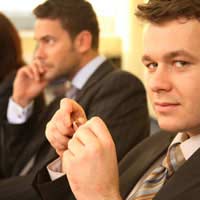 Body language in the world of business is an area where your non-verbal communication can have a strong influence on the outcome of many different situations.
Different Situations, Different Body Language
There are endless variations on the different situations you might encounter in business. You might be selling something, negotiating something, supervising other people, researching a product, pursuing a new client, meeting a new co-worker, listening to your new boss – the list could go on and on. Your body language is an integral part of every business situation you encounter, so it pays to understand some of the most common situations and how your body language can make a difference.
Sales – When you are attempting to sell a product or service, your body language has a great deal to do with your success. Picture the pushy, obnoxious used car salesperson stereotype and it's easy to see the wrong way to sell. But what is the right way to sell? In general, your body language should be respectful and more formal than that of your client, especially if the business relationship is quite new.
Watch for signs that the client is getting bored, irritated, or that you've violated his or her personal space. Maintain a pleasant facial expression and a confident but relaxed body position. Position yourself at a ninety degree angle to the client whenever possible, as this is less confrontational than face to face.
Negotiation – You may encounter negotiation situations throughout the day. For instance, if your boss wants you to take on a new project but you don't think you have enough time, you'll probably start negotiating your workload and other issues related to the new project. Keep a good facial expression - if you roll your eyes, look disgusted, and the like, you will not be as effective as if you maintain good eye contact, confident body position, and reasonable tone of voice.
In formal business negotiations, body language becomes even more important. Where you sit, how you sit, and the people you sit near all send important messages to the other party or parties involved. The head of a table is the business power position, so take a seat to one side but not directly in front of the other person. Steady eye contact is good, upright and confident body posture is a necessity, and appropriate gestures are helpful. Be careful with your facial expressions - avoid challenging stares, large or uncontrolled gestures, and posture that is either too aggressive or too submissive.
Purchasing – When you are in a position of purchasing an item, you will encounter all sorts of body language from the people trying to sell you on their particular brand or version of the item. In these situations, it's important to maintain somewhat reserved and formal body language, keeping your thoughts to yourself. This helps you maintain control of the business purchasing process, preventing the sales representative from picking up on your non-verbal cues and using that information to influence your decision making process.
It's also important to maintain a bit of formality and reserve when dealing with sales representatives who call on you frequently. Adopting too much informality may lead you to allow the personal relationship to have too much influence on the buying decision.
Supervision – This is perhaps one of the most difficult business situations because it involves giving direction (and sometimes discipline) to other people. In an office environment, for example, you might make a point of walking through each area once per day to show you are accessible.
Walk in a confident and relaxed manner, but be carefully to maintain the same body language from person to person. If you display very informal body language with one person and very formal body language with another person, your employees will interpret that in many different ways. You might be seen as favouring one person over another, or as being inconsistent in some way.
Watch And Learn Constantly
Regardless of your industry, job, or position, it pays to constantly watch the body language of others and learn from what you see. Do you have a manager who is especially good to work for? Pay attention to how he or she uses body language to interact with other people. Do you have a co-worker who is especially irritating and trying to influence the boss in some way? Again, pay attention to how he or she uses body language, facial expression and eye contact and look for ways to distance yourself from that behaviour or to assert your own professionalism to counteract that behaviour.
Consider keeping a journal or diary of your observations, written in terms of key points and suggestions for yourself to use in business situations. This can be a handy way to review different ways of handling different situations and use that information to improve your own actions.
You might also like...