Body Language in Business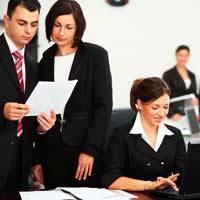 It's tempting to lump all body language together when talking about the business environment but this would be a big mistake. Just as accepted non-verbal behaviours vary depending on the social culture or environment, so too do accepted non-verbal behaviours vary based on the culture of an individual business. If you want to determine the most effective body language to use in a business environment, you should first identify the dominant business culture in that environment.
The Most Common Business Cultures
Every business is unique and different, of course, but there are several broad categories of business cultures that describe the majority of business cultures you're likely to encounter. They are as follows:
Industrial
Conservative
Casual
Academic
Let's look at each of these in turn and discuss the most likely body language expectations for each one.
Industrial Business Culture
The industrial business culture is somewhat mixed in many ways. It is typically divided according to job function, usually categorised as either management/administration or front line employee. Some examples of industrial business cultures include construction, manufacturing, maintenance, and the like.
In general, an industrial business culture rewards physical performance of work, attention to safety, and a larger sense of brotherhood or unity across the organisation. This is reflected in the acceptable body language, which usually includes physical activity, self-confidence, and an overall willingness to participate and get the job done.
Conservative Business Culture
This is perhaps the type of business culture most people think of when they picture a traditional office environment. Conservative business culture is typical of banks, corporate offices, law firms, accounting firms, and the like. They are very structured in their hierarchy and processes, and very regimented in their schedules and activities.
In a conservative business culture the dress is often quite formal (suit and tie) and your attention should be clearly focused on business itself. The acceptable body language is also very formal and focused, such as showing deference to those in higher job positions, purposeful walking in the hallways, and no leaning, slouching, or excessive socialising.
Casual Business Culture
The casual business culture is most typical of modern, progressive organisations, especially those that are small to medium sized or involved in technology-heavy industries. A classic example is the 'dot com' company with ping-pong tables in the break room, beanbag chairs in the meeting rooms, and no discernible dress code. This is of course an extreme example, but it clearly illustrates the concept of a casual business culture.
Body language in a casual business culture is typically quite relaxed and often characterised as being light-hearted and fun. Most interactions are conducted in a more personal manner and with body language that is more relaxed, open, and some would say genuine. It's okay to develop and nurture friendships in a casual business culture, and acceptable body language includes those non-verbal behaviours that are more social and relationship-oriented.
Academic Business Culture
While this might seem like a bit of an oxymoron, the academic business culture is alive and well in places such as universities, colleges, research foundations, and academic think tank/issue oriented organisations. The emphasis in this kind of culture is on creativity, thought, knowledge, and discussion.
Acceptable body language in an academic culture is usually open and thoughtful, not overbearing or dominant in most cases. Respectful but assertive non-verbal behaviours are quite common, and a great deal of emphasis is placed on face-to-face discussions and relationships. This means posture, gestures, facial expressions, and eye contact are all quite important.
What's Your Organisation's Culture?
Correctly identifying and adapting to an organisation's culture is important to job performance and overall career success. If your body language is out of sync with expectations in the business culture, you will likely be perceived as less capable, less qualified, and maybe even less trustworthy in some cases.
If you haven't given any conscious thought to the business culture in your organisation, pause for a bit and do so right now. Make a list of cultural norms in the workplace, including examples of common body language and non-verbal behaviours. Look for patterns in these examples and then compare them to your own general body language and non-verbal behaviours. If there is a glaring difference between the two, start thinking about how you can better match your body language to the dominant business culture.
You might also like...