Using Body Language in Customer Service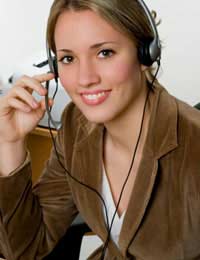 Customer service is an important part of every business because of course, if you don't take care of your customers you won't be in business for very long. Body language is a powerful tool at your disposal for better serving and satisfying all kinds of customer needs.
The Basics of Body Language in Customer Service
Body language influences a customer's perspective of your business right from the first phone call. The friendliness of the answering voice and the enthusiasm in the employee's voice can make the difference between a customer choosing to come in to your business and choosing to go elsewhere.
When a customer walks in to your business the body language of employees helps to create their first impression. Are your employees just sitting around, slumped over, looking bored, and the like? Think about how that reflects on your business. Are your employees alert, friendly, and actively greet each customer coming through the door? Think about how that reflects on your business as well.
In general, the body language used for customer service interactions should be respectful and accommodating of the customer. The customer should be accorded a certain status and treated as an honoured guest. Your employees can accomplish this through simple things, such as holding open a door, making eye contact, and positioning their bodies in a way that is open and friendly.
More Advanced Body Language in Customer Service
There are more advanced issues related to body language in customer service as well. For instance, when dealing with an angry customer an employee's body language can help either resolve the difficulty or make things worse. Many times the customer just wants to vent some frustration and be heard; in these cases, employees can help the situation by maintaining a neutral expression, validating the customer's experiences, and staying open to what the customer says. Things will only get worse, though, if the employee takes an aggressive body position, gestures a lot with the hands, or attempts to interrupt the customer along the way.
Some businesses put a lot of thought into the type and size of desk used by their employees who interact directly with customers, even to the point of having some employees work without a desk at all. For example, think about the last time you walked into a bank to open an account. Chances are you were greeted by a well-dressed employee seated at a neat and tidy desk with one or two chairs positioned in front. This portrays the qualifications of the employee but also welcomes you to the employee's space.
Now think about the last time you walked past a mobile phone shop at your local shopping centre. Chances are the customer service associates don't sit behind desks at all, instead standing with an open body position right next to the mobile phone display. This is a welcoming position that allows them to meet and greet potential customers without the interference of a desk as an obstacle between them and the customer.
Body Language and Sales
Most people consider sales to be quite different from customer service, but in today's world, the two functions tend to blend together a bit. When it comes to straight sales, though, there are distinct body language cues and behaviours that can influence the outcome of an interaction with a customer.
For instance, if a salesperson is too aggressive – standing close to the customer, touching the shoulder, and generally displaying body language that is too friendly or pushy – he or she is much less likely to close the sale. If, however, a salesperson is respectful and conservative with body language, the potential customer is put at ease and is much more likely to complete the sale.
Another body language strategy used by some salespeople is to purposefully step away from a potential customer, allowing him or her to look around without the salesperson in direct attendance. The salesperson, however, retreats to a spot where the potential customer can be observed for non-verbal cues that he or she has a question or wants to examine a product more closely. Many car dealerships used this technique, calling it 'low pressure' or 'no pressure' sales.
Regardless of your type of business or level of interaction with customers, understanding and applying the principles of body language and non-verbal cues can be a big contributing factor to your overall success. Your own body language, combined with keen observation of the customer's body language, provides a great deal of information to help the interaction along toward success.
You might also like...
this is so bad I got a f in business because of this website brum brum ford mccarthy
ford mustang
- 7-Sep-18 @ 10:49 AM
Hello sirIneedsomeinformationaboutcostumerbody language in a fashion shop
elie
- 28-Sep-16 @ 10:53 PM
Hi I need a Questionnaire for Body Language in Bank. Do you have any? please, please send it for me. Thank you.
yasbal
- 23-Nov-12 @ 12:24 PM
how to know your being served or not
sam the kiwi
- 7-Jul-11 @ 3:47 PM