Using Body Language at Job Interviews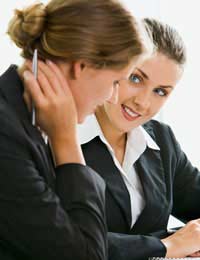 Interviewing for a job can be a very stressful process. From the time you are first invited to the interview all the way through to the post-interview follow up your mind is in constant motion. Throughout this process, body language is an important part of your preparation and execution of an outstanding interview.
Body Language and Preparation For an Interview
Most people don't think of body language as having anything to do with interview preparation, but that is simply not the case. On the contrary, your body language is a crucial part of preparation and focus on the actual interview.
It begins with your own self-confidence. It's normal to feel a bit nervous about an upcoming interview, so use your knowledge of body language to help reduce that nervousness. Make a point of using an upright and confident posture, with a pleasant facial expression and solid eye contact, in the days leading up to the interview. This serves two purposes; first, it helps your own attitude to take on more confidence, and second, it helps you practice the types of non-verbal behaviours you will need to use during the interview itself.
Try practicing this body language in front of a mirror, or better yet, in front of a video camera. Ask a trusted friend or peer to role-play an interview with you, then go back and watch the video to get a fresh perspective on your conscious and unconscious behaviours. You don't want to become over rehearsed, of course, but you do want to identify and correct any major problems that might detract from your performance during an interview.
Body Language During an Interview
Much has been written about body language and non-verbal behaviours during an actual interview. Experts from across many disciplines are full of advice and guidance on just how to present yourself in the best possible light using conscious body language choices. While many of these experts claim to have the 'secret' system for making the most of an interview, the reality is that most of them focus on a few general categories of non-verbal behaviours that consistently have the greatest effect during a job interview.
Entering the interview location – Your walk should be active and confident, but not arrogant or cocky. Keep your shoulders upright, head up, and make eye contact with the people around you. Maintain a positive facial expression and be assertive about shaking hands and greeting people to whom you are introduced.
During the interview – Sit in an upright and attentive posture that's open and relaxed. Never let your shoulders slump or your head hang down, but rather keep your head up and make eye contact with the interviewers. Don't fuss or shuffle around any papers or notes you have in front of you, and don't lean your arms heavily on the table. Keep your body position open and make eye contact while listening to and answering questions.
Leaving the interview location – No matter how you feel about your performance during the interview, carry yourself with confidence and poise as you leave the interview location. Be assertive about shaking hands and making eye contact as you say goodbye, and keep your body posture upright as you walk all the way until you reach your car.
Body Language and Follow Up to an Interview
Once the interview is finished and you're into the follow up process, don't let your body language go by the wayside. Sit with an upright and confident posture as you write thank you notes to the interviewers, and keep a positive facial expression whenever you speak with someone on the phone. Believe it or not, your tone of voice is strongly affected by your facial expression and body position, so pay attention to your body language even as you're talking on the telephone.
Remember, the more you make positive and confident body language a part of your daily life, the more it becomes a habit that goes with you wherever you go. If you have a firm habit of solid body language as a daily practice then you don't have to worry about it or think about it nearly as much when you go to your next interview. It becomes a natural and normal part of how you present yourself, allowing you to focus more directly on communicating your qualifications and suitability for a potential job.
You might also like...