The Body Language of Barack Obama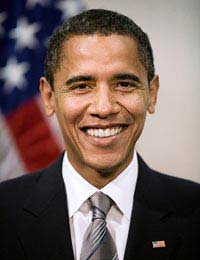 He is the leader of the free world, but what type of body language is United States President Barack Obama giving off to both the public and other leaders?
On the Campaign Trail
While still campaigning for the presidency, experts noticed that Barack Obama exhibited a more at ease way of walking than opponent Senator John McCain. Obama had a much more centred walk, swinging the opposite arm with the opposite leg. Experts also noticed the difference between McCain and Obama's gesturing. While McCain suggested the bridging of a gap with his directional gestures, Obama was very accommodating with his shaping gestures. Obama's overall body language played to his advantage. When facing questions in public, Obama seemed at ease, even when asked tough questions.
Entering the Oval Office
After he won the election, Obama met with outgoing President George W. Bush at the White House and their body language spoke volumes. Allan Pease, who wrote "The Definitive Book of Body Language," said that Obama took control of the meeting immediately by grabbing Bush's upper arm during their initial handshake. As the two walked into the White House, Obama led Bush by putting his arm around him and giving him a pat on the back, signifying this was his house now.
Bush, however, was not ready to give up control of his territory. During the handshake, he stood with his feet planted firmly and extended his hand only so far, making Obama move in to shake hands. One thing that couldn't be told from the meeting of the outgoing and incoming presidents was the pressure of their handshake. Body language experts say you should always use the same amount of pressure as the person with which you are shaking hands. Anything more is seen as aggressive, anything less is seen as passive.
Obama kept eye contact with Bush, letting Bush know that he felt they were equals. Eye contact is very important because people who are being dishonest often avert their gaze.
When Obama took the stage at his inauguration, his body language was that of someone tired, but also meek. There wasn't a sense of triumph, and at the end of his speech, Obama brought forward his family, vice president elect Joe Biden, and his family to join him. The sharing of the stage with others told people that Obama felt they all helped him get where he was and made crowd watching feel like he was one of them.
While in Office
Dr. Lillian Glass, a body language expert, studied photos of Obama with other world leaders at the recent Nuclear Security Summit. She noted that Obama's body language made it clear which leaders he liked and those for which he didn't care. A photo of Obama with French President Nicolas Sarkozy showed negative body language between the two. Sarkozy turned away from Obama and looked in an opposite direction. Obama smiled, but his cheeks weren't raised – an indication that it was a fake smile. He also put his hand on Sarkozy's shoulder, which many experts see as a sign of Obama exerting his power.
However, when Obama pulled the same power play with Russian leader Dmitry Medvedev, Medvedev counteracted the move by putting his open hand, with fingers spread, on Obama's elbow. While Obama moved in, Medvedev moved back.
Obama's body language showed he was upset in the photo with Israeli Deputy Prime Minister of Intelligence, Dan Meridor. Obama cocked his head to one side, which showed doubt and kept a distance between himself and Meridor. However, Meridor seemed more open to Obama. When shaking hands, he leaned in towards Obama and kept a very open stance during the greeting.
The mutual admiration between Obama and South African leader Jacob Zuma was evident. The two touched hands and mirrored each other's facial expressions, showing they were well in sync with each other.
It will be interesting to see if Obama's dominant body language changes as his presidency progresses. One thing is certain – body language experts will keep close tabs on him to report any changes.
You might also like...
Very informative information on "Obama's body language. How to present as a confident leader and at the same time making others feel welcome and comfortablele
Mare
- 12-Nov-19 @ 6:06 PM