How to Convey Sincerity and Warmth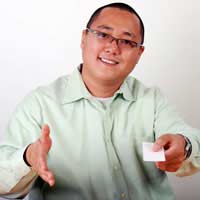 When you understand the power of body language, you can consciously use it to convey a wide variety of messages. Additionally, you can observe and interpret the body language of others to determine the message they're sending in your direction.
In this article, we'll look at three common messages that occur in a broad range of situations and types of interactions. They are sincerity, familiarity, and warmth.
Sincerity
Body language that conveys sincerity is much like that conveying honesty. It is characterised by steady eye contact, relaxed but poised body posture, and leaning toward or reaching out toward the other person or people. It is the type of message that most people deliver quite unconsciously and naturally, but other people may deliberately assume this kind of body language in an effort to influence another person. Typical examples might include a salesperson pitching a product or service; a child trying to convince a parent he or she really needs a certain toy; or even a close friend having a particularly honest or difficult conversation with you.
Familiarity
Body language that conveys familiarity has a strong influence on overall behaviour. When you display relaxed, comfortable, and even casual body language, that lets the other person know you feel a strong degree of comfort and familiarity with him or her. Deliberate use of this kind of body language may help put a new acquaintance at ease in a group or communicate a higher level of affection for another person. In general, the more familiarity you convey to others (or perceive in others) the more likely you are to communicate in an open, honest, relaxed manner.
Warmth
Body language that conveys warmth is similar to that of familiarity, but you do not necessarily have to be comfortable or familiar with a person or situation to display warmth. Relaxed posture, open body position, sitting or standing close together, and other generally relaxed behaviours are common ways of showing warmth. For instance, a parent might display these body language messages to convey warmth to a son's new girlfriend. Retailers also make use of this kind of body language to convey a sense of warmth to their customers; examples include having employees stand in front of the counter rather than behind it, or training employees to use relaxed behaviours to make customers feel welcome in the store.
The Effects of Context and Environment
All three of these common messages – sincerity, familiarity, and warmth – are affected by the context and environment in which they occur. As a general rule, the more formal or conservative the environment, the more restrained and cautious the messages will appear.
Conflict may occur when two or more people have different perceptions of the context and/or environment of the situation. These kinds of different perceptions are a major cause of miscommunication, misinterpretation, and general misunderstanding of both conscious and unconscious body language.
Before you attempt to convey (or receive and interpret) any of these messages, pause for a moment to evaluate context and environment. Pay attention to your own perceptions of these things as well as the perceptions of others. Using these kinds of clues when sending and/or receiving messages of sincerity, familiarity, and warmth can greatly increase your effectiveness and at the same time decrease the chances of misunderstandings due to differing perceptions.
You might also like...