Michael Jackson's Children and Father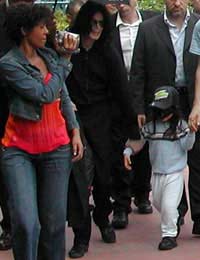 There has hardly ever been a bigger celebrity enigma than Michael Jackson. The world watched him on the stage from an early age. He was a worldwide superstar who died with a legion of dedicated fans and still a multitude of harsh objectors. We watched as he morphed from a cute adolescent, to a talented young man, to an odd adult. And as his personality changed, so did his physical features. Will we ever know what drove Michael Jackson to be the type of person he was and what will his legacy be?
The Oprah Interview
Oprah recently brought together Michael's father Joe, his mother Katherine, and Michael's children Paris, Prince, and Blanket for an exclusive interview a little over a year after Michael's death. The body language of everyone was apparent.
When Oprah asked Paris and Prince about their father and how he made them wear veils when out in public, they both took a closed, defensive stance. Paris was sitting in a chair with her arms folded while her brother stood beside her, his arms also folded and leaning back as if he had been attacked. One foot was slightly forward towards his sister, as if he were ready to step forward to protect her if needed. While Paris said the veils were for protection, the body language of both of the children was clear this was not a topic they wanted to discuss.
Joe's Body Language
Joe was standing beside his wife. He has his head down with his head in his pockets as he looks at Prince. This submissive pose is uncharacteristic for this normally strong, outspoken character. His past body language has typically been that of someone who is very confident if not a bit cocky in his manner. There is also a physical distance between Joe and his grandchildren that speaks volumes. It is obvious that there is not a close relationship here.
Prince's Body Language
When speaking with Oprah, Prince tended to look away, as if he was only answering Oprah's questions to be polite and didn't really enjoy opening up about his relationship and special private times spent with his father. Prince remembers how private his father was and his body language seems to be suggesting that he finds Oprah's questions to be too intruding into the family's private life.
Paris' Body Language
Like her brother, Paris too seems to find many of Oprah's questions about the family to be inappropriate. Her folded arms shows she is trying to protect her family and her leaning back says she finds these questions to be too violating. While most people may find this odd – Oprah's questioning was not really that out of the ordinary – you have to remember the ultra-secretive atmosphere in which these children have been raised all their lives.
At the same time, while secretive, Michael knew how important it was to try to be accommodating to his admiring public and the children reflect this by continuing to answer Oprah's questions, despite their body language saying they are uncomfortable.
However, Oprah is trying to get the kids to open up as much as possible through her body language. She leans towards the children, a sign that she is being open and trying to engage them in conversation.
At one point, Paris does open up about her father by talking about how he made the best French toast. You can see as her eyes widen and she raises her brow that she surprised herself by revealing this personal memory.
Protective of Their Father's Memory
Michael's youngest son, 8-year-old Blanket too, remained reserved for the interview. He had his knees bent in front of him, as if to provide a physical shield for him. At times, his hands covered his mouth, as if to say he didn't want to speak.
While much can be said about Michael and the way he lived, it is seen in his children that they were much loved and cared for and obviously have little but fond memories of their father. He also instilled in them the deep desire to remain somewhat private from what he must have seen as a demanding world. The children will undoubtedly continue to try to protect Michael's image as well as each other as the world continues to wonder what their father and their lives with him was like.
You might also like...