Body Language: The Joran Van Der Sloot Case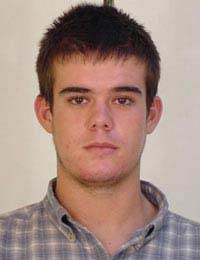 Joran van der Sloot is believed to have murdered both Natalee Hollaway and Stephany Tatiana Flores Ramirez. Could his body language have clued officials in to the fact that he was a psychopath?
Van der Sloot is a Dutch national who is the prime suspect in the death of Natalee Hollaway, a U.S. teen that went missing during her high school graduation trip to Aruba on May 30, 2005. Exactly five years to the day of Hollaway's disappearance, Van der Sloot was charged with the death of Stephany Tatiana Flores Ramirez in Lima, Peru. In March 2010, Van der Sloot reportedly contacted Holloway's mother Beth Twitty to offer her the location of her daughter's body in return for a total of $250,000. The Federal Bureau of Investigations (FBI) got involved and although Van der Sloot was paid $25,000, his information turned out to be false. On June 3, 2010, he was indicted on the charges of extortion and wire fraud. He confessed to killing Flores Ramirez, on June 7, but has since tried to retract his confession on grounds of intimidation by the Peruvian police.
Van der Sloot's Telling Body Language
Body language expert Dr. Lillian Glass has looked at videos of Van der Sloot to analyse his body language. She noted in one still from the video, Van der Sloot appeared to have tears in his eyes, but they weren't tears of remorse. She believes the eye moisture is due to Van der Sloot's adrenaline rush of actually being caught as killers generally have no emotions due to a lack of empathy and guilt. Some reporters said that he looked stunned as he was arrested, but Glass felt that was because, as a true psychopath, Van der Sloot was in shock not for the crimes that occurred, but because his ego allowed him to believe he would never be caught.
Analysing surveillance videos of Van der Sloot and Flores Ramirez as they entered the hotel in which she was killed, Glass said that Van der Sloot had a sadistic smirk on his face, the same type he reportedly had when admitted to a reporter he killed Holloway. Van der Sloot walks in front of Flores Ramirez, showing a detachment from her. Also telling us that he doesn't look at her, meaning he has no feelings for her.
After he allegedly killed Flores Ramirez, Van der Sloot is seen exiting the room with a sense of calmness about him. He had put on clean clothing and there was no muscle tension in his facial expression. His walk out of the hotel was not hurried as you might expect from someone that had just committed murder.
However, the taxi driver that gave Van der Sloot a ride to Vina del Mar said that he appeared nervous, squirming around the back of the taxi and chain smoking. Glass points out that while this behaviour might come off as nervousness to most, she believes the excitement Van der Sloot felt from the killing was just setting in.
Mother Anita's Body Language Says She Doesn't Believe Him
Van der Sloot, whose prominent father died since the Holloway incident, asked that his mother be called. But, based on her body language during an interview, even she doesn't appear to think her son is innocent.
Anita Van der Sloot said her son left her a note, saying he was going to Peru to gamble. But, as she recalled the note, she brushed her leg, a sign of deception. She also stuttered, looked down, and licked her lips as she read the note – more signs of deception.
That Van der Sloot left his mother a note rather than verbally telling her of his plans shows a possible strain on their relationship. Later in the interview, she says that she doesn't believe her son killed Flores Ramirez, but her inflection went up, as if she were detaching herself from the incident. When talked about the murder scene, Anita turned away from the interviewer, as if she is unable to face the scene she was describing due to her horror. She then smiles, saying, "And I thought no, no, this cannot be. No way." Was this a smile of relief that Van der Sloot was finally caught and can't kill anyone else?
Police and official are already well aware of the body language shared by psychopaths – perhaps that's why they kept an eye on Van der Sloot after the Holloway case, even without any physical evidence.
You might also like...