Practical Applications of Body Language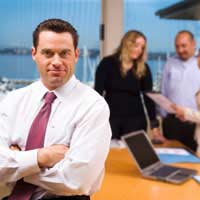 Body language is an integral part of human interaction whether it occurs unconsciously or deliberately. One of the interactions where body language is considered critical is during a job interview. Whether you are the interviewee or the interviewer, body language can have a powerful impact on the process.
Body Language When You're the Interviewee
Body language is nearly always part of any training class on how to interview for a job. Whether it is an introductory workshop or an advanced personal coaching session, the interviewee's body language is discussed and often examined in great detail.
The most basic non-verbal messages for an interviewee to master are the firm handshake; the confident walk; eye contact; and posture. Everything starts with a firm handshake, demonstrating confidence and enthusiasm for the process. A skilled interviewee will make solid eye contact with each hand shake and move confidently from one person to another if there are multiple people in the room.
Interviewees are taught to walk across the room with confidence; shoulders back, head up, and back straight. Once seated, they should sit with an upright posture, not leaning back or slumped over in the chair. Eye contact is important when answering questions, especially when there are multiple interviewers in the room.
More advanced body language techniques for interviewees include details such as which way to cross the legs, where to put the hands, how long to pause before answering a question, and the like. Crossed legs indicated where attention is directed, so an interviewee is coached to cross legs toward the interviewer when it is appropriate. Interviewees are also coached the pause, take a deep breath, and then answer a question with control and confidence.
Body Language When You're the Interviewer
There are also training classes for interviewers, but most of these focus on hiring practices, regulatory issues, and the like. But body language is just as important to the interviewer, both in sending non-verbal cues and reading the non-verbal cues of the interviewee.
The interviewer naturally has the higher status in the room and should carry himself or herself accordingly. This does not mean showing arrogance, but rather using an upright posture, confident handshake, and good eye contact. Another useful interviewer technique is the neutral facial expression. When the interviewer gives the interviewee less feedback, it is a way of observing the interviewee's actions during a time of uncertainty. Most organisations really want their interviewers to use neutral expressions, because if they're too enthusiastic or too unenthusiastic, interviewees take away an inaccurate impression of the interaction.
Many organisations use a panel interview process, where there are two, three, or even four interviewers in the room. This present a different set of challenges for both interviewer and interviewee, as the questioning process moves through the group. In most cases, the interviewers will meet in advance to coordinate questions and understand the expectations of the lead interviewer. Some will even go so far as to instruct each interviewer to adopt particular non-verbal cues as a way of observing the interviewee's reactions to these cues.
Just as important as the interviewer's own body language, though, is his or her ability to 'read' the interviewee's body language. In general, an interviewee should be confident and enthusiastic, but sometimes a very qualified candidate might not be very good at interviews.
Other times, a very unqualified candidate might be very good at interviews, impressing interviewers despite a lack of knowledge or ability. Interviewers must know how to pick up on various body language clues as part of the process of determining which candidate is the best fit for the available position.
You might also like...
I m a FYBsc.it student studing in M.L.Dahnukar college of commerce.I m little bit confuse about the "professional and communication skills" subject.I m new at yhis field so i want to know that how can i improve my body language?what should i do?
A.R.S.
- 27-Jun-13 @ 1:26 PM