Reading Body Language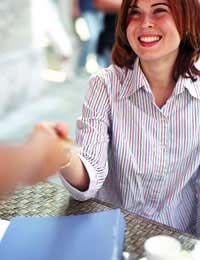 Most people display a certain body language when they are scared. Their eyes may widen and they may recoil with their body if they feel they are being threatened in any way. People also have a certain body language when they meet a friend. They may smile, perhaps wave, or even greet each other with a hug. Their facial expression (the smile) matches their body language (a wave). They also have a certain body language when they are scared.
Facial Expressions and Body Language
But, it is possible that your facial expressions and your body language can contradict each other. What happens if your friend waves when he or she sees you but has a scowl on their face? What if he or she smiled, but had their arms folded across their chest? What type of subliminal message does the mismatched facial expression and body language give you? Which one do you accept as the real emotion?
For years, researchers have known that the tone of someone's voice was more telling of his or her true feelings then what words were being said. If someone said "I'm excited" but it was in a monotone voice, you knew they really were not.
Researchers have found people don't rely on facial expressions as much if the body language doesn't match. Studies have been done where subjects were shown photos with conflicting facial expressions and body language. For example, a photo might show a person with a facial expression of anger, but with body language of fear.
Which is a More Important Indicator of True Feeling?
What researchers weren't sure of was whether the facial expression or body language prevailed in another's perception. Did the person trust the facial expressions as someone's true feelings or was the body language more important? Until recently, they believed that it was facial expression that was more important, but researchers in both the Netherlands and Boston decided to do some tests to see if that was indeed true.
Subjects were shown photos of isolated faces and bodies that showed anger or fear. Then, they were shown photos that had angry or scared faces matched with angry or scared bodies. The person pictured with the angry faces had lowered eyebrows while one with a scared face had raised eyebrows. The angry face had tight lips while the scared face had an open mouth. The angry body had arms and shoulders at an angle while the scared body had forward arms and shoulders squares in a fight position.
The Findings
As the subjects looked at the photos, they were asked to press a button as soon as they could to signify if they felt the facial emotion showed fear or anger. Researchers found that the subjects identified the correct facial language almost 81 percent of the time when shown only photos of a facial expression. But, when they were shown a photo that featured a facial expression with a contradicting body language – such as a fearful face with angry body language – the subjects could only tell the correct facial expression 64 percent of the time.
The researchers concluded that even if people pay attention to the facial expressions of someone, a contradicting body language can throw them off on the real emotion.
You might also like...