The Body Language of Your Teenager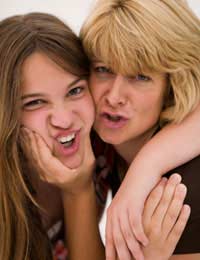 What happened to your sweet young child? You know, the one who used to live in house and greet you cheerfully, happy to see you and anxious to spend time with you. Rest assured that child still exists, but he or she has become trapped inside the body of a teenager. The teen years are a time when children undergo great changes and transitions; they may want you to think you're not needed any more, but the reality is you're needed more than ever. One of the best ways to maintain connection and communication with your teen is to pay attention to body language and non-verbal cues.
Testing, Learning, and Attempted Independence
Teenagers are testing their wings, so to speak, learning what it means to move from childhood to adulthood. That transition is not always smooth; it can be confusing, scary, and often proceeds in a 'two steps forward, one step backward' pattern.
It is the very nature of teenagers, though, to be reluctant to share what they're really feeling and thinking inside. They may feel silly, or not want to admit to their parents that they aren't as mature and independent as they would like to be. Despite this reluctance to open up and share, their true thoughts and feelings often still show through in their body language. You just have to know what you're looking for and pay attention.
Common Body Language of Teenagers
Teenagers generally show most of the same body language as adults, but sometimes the non-verbal cues are more subtle or slightly skewed. Let's look at some common examples of teenage body language and what they generally mean:
Slumped body posture – A teen that walks with slumped body posture may be feeling self-conscious, unhappy, stressed, or just a bit down. He or she might also feel pretty good, but is just lost in thought about something else.
Poor eye contact – Teens often struggle to make eye contact, especially with adults. They haven't yet developed the self-confidence or comfort level of a full blown adult and so sometimes, they just can't quite look you in the eye.
Just hanging around – Teens may have a tough time initiating conversation with their parents, so they sort of hang around in the background. They don't quite engage you directly, but they also don't head off and do something else on their own.
Dealing With Body Language of Teenagers
So how, exactly, should you deal with this teenage body language? What is the best way to respond so that you and your teen keep connected with each other?
Slumped body posture – The underlying meaning of this posture depends a great deal on what is normal for your teen. If it is his or her common posture, stay engaged and in touch but don't hover. Don't tell your teen to 'sit up straight' or anything like that, but do make yourself available for casual conversation.
Poor eye contact – If your teen has difficulty making eye contact with you, try to create situations where you can stay connected without having to look each other in the eye. Go for a bike ride, take a drive in the car, just about any kind of activity where you are close enough to talk but not facing the added pressure of talking face to face.
Just hanging around – If your teen is just hanging around, try engaging him or her in whatever activity you're doing. This non-verbal behaviour is quite often a sign your teen wants to spend some time with you, but is reluctant to come right out and say it. Take the lead yourself and find something to do together; your teen will probably be grateful for your effort.
Take More Assertive Action
Most parents struggle with knowing what action to take based on their teen's body language. Should they be worried? Should they be reassured? Chances are your teen will point you in the right direction, but you have to know your child's personality.
The time to take action and insert yourself more assertively into your teen's life is when you see changes that are out of the ordinary for your child. A daughter who is normally talkative and perky but becomes quiet, reserved, and slumped over may have a problem that needs your attention. A son who is normally active and involved with his friends but suddenly hangs out with an entirely new group of friends or stops doing the things he used to enjoy may also have some underlying issue you need to address.
You might also like...
Jim - Your Question:
Are there any good materials (web site or books, etc.) out there to teach a teenager about body language. I feel that if they understood it better they would use it more effectively. Both more positive body language and less negative body language.Any advice?thx
---
Our Response:
Unfortunately we do not recommend specific publications as there is such a vast of body of research into the subject.
BodyLanguageExpert
- 6-Jul-17 @ 12:13 PM
Are there any good materials (web site or books, etc.) out there to teach a teenager about body language. I feel that if they understood it better they would use it more effectively. Both more positive body language and less negative body language. Any advice? thx
Hi! I just linked back to this post on mine.Thanks for the info!
Friend
- 31-Aug-15 @ 7:30 PM