Parental Body Language and Children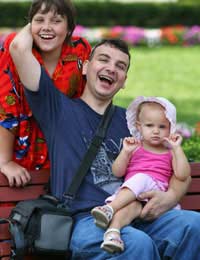 A parent's body language influences children in many different ways some of which you might find a bit surprising. The most successful parents pay close attention to their non-verbal messages and adapt them accordingly to best meet the needs of their children.
Am I Bothering You?
Let's face it; having children in the house adds many challenges to life, especially when it comes to completing tasks. Whether it's your regular chores, a work project, or simply reading a magazine, there are times when children make it difficult to finish due to frequent interruptions. The way you handle these interruptions may seem like a small thing, but can have a big influence on a child's behaviour, self-esteem, and confidence.
For instance, if you're occupied with something and your child comes to ask you a question or ask for your help with something, what happens to your body language? Do you make eye contact, give your attention to the child, and use a friendly facial expression? If so, your child gets the message that he or she is important to you and that you are respectful of his or her needs.
If, on the other hand, your body language is negative, the child gets a completely different message. Rolling your eyes to show you're bothered by the interruption, not making eye contact, staying focused on your task rather than on your child, an exaggerated sigh, or a scowling facial expression are all ways your body language tells the child you're irritated or bothered by the interruption. Even if your words say you're happy to answer a question, if your non-verbal cues say something else then those are the messages the child perceives as being true.
Patterns of Body Language Over Time
A single instance of negative body language from you is not likely to create a permanent issue with your child, but the pattern of your body language over time does have an effect. For instance, if you regularly use body language that is open, friendly, and respectful of your child, he or she feels greater confidence and self-esteem, and is much less likely to engage in negative behaviours to gain your attention.
However, if you regularly use body language that is negative, annoyed, or irritated at the interruption, just the opposite effect occurs. Your child will feel unwanted, unimportant, or that you simply don't care. Confidence and self-esteem suffer, and it's common for negative behaviours to emerge that perpetuate the cycle of negative interactions.
What does that really mean? The simplest explanation goes something like this:
When your body language is positive – Children feel that they have received your full attention and feel more satisfied with the interaction. They are much less likely to come back repeatedly looking for more attention from you.
When your body language is negative – Children feel that they have not received your full attention and feel less satisfied with the interaction. They are much more likely to come back repeatedly or use negative behaviours in an effort to get the attention they need from you.
Can you see the pattern that emerges? If you use positive body language and give your children the kind of focused attention they crave, they feel more secure, satisfied, and probably won't 'bug you' nearly as much. If you use negative body language, though, they feel insecure, unsatisfied, and will probably 'bug you' over and over again until they get your focused attention.
Your Body Language is Integral to Parenting
The body language you use with your children is really integral to your parenting of them. Your non-verbal messages have a powerful influence over a child's behaviours, attitudes, self-esteem, confidence, and many other aspects of their growth and development.
These benefits build upon each other month after month and year after year, compounding the outcome to make it even more powerful. As your children grow into adolescents, teens, young adults and beyond, they are much more likely to come to you with issues and problems they encounter if they know they will receive your focused and positive attention.
So the next time your preschooler is peppering you with interruptions while you're trying to complete a task, pause for a moment, and consider the influence your response will have on your child. As hard as it may be, many times it's better for you and your child if you stop, take the time to give your focused attention, and then return to your task. You'll both feel more satisfied and you establish a positive pattern of body language and interaction.
You might also like...