Gender Differences in Sending and Receiving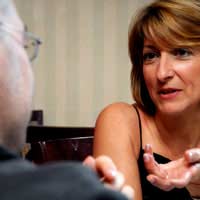 There are many stereotypical descriptions of men and women. Women are emotional and social. Men are stoic and macho. Women speak indirectly and without much force. Men speak directly and forcefully.
These may be stereotypes but they have their roots in very real differences between how men and women both send and receive communication messages. There are real, physical reasons for some of these differences, while others are due to cultural and environmental expectations of appropriate gender roles. Regardless of how or why they exist, understanding differences and applying that knowledge is critical to improving communication within and between genders.
Gender Differences in Sending
In general, women are perceived as being more subtle, indirect, and skilled at sending all kinds of communication messages, but especially non-verbal messages. This is for the most part true, and is thought to be at least partially due to the way women are pre-programmed by nature.
Women are predisposed to be the primary nurturers and caregivers in a social environment. They have to notice and respond to the non-verbal cues of infants, understand and fulfil the needs of growing children, and organise family and community life. Women are typically physically smaller than men, too, so in order to influence others without resorting to brute force they must use body language and non-verbal behaviours instead.
Men, on the other hand, are predisposed to be the primary providers and protectors in a social environment. They are pre-programmed to compete for resources, often physically, so they rely more on direct communication and action. Think about a group of men out hunting for game; they have to communicate quickly and precisely if they are to bring down their prey. There is no time for lengthy discussion, building consensus, and the like.
Of course, these are all general descriptions of gender differences in sending. In our modern world where men and women have much more choice and equal opportunity in their lives, many of these differences have lessened or at the very least become more subtle or masked. They have not gone away entirely, however; all you have to do is watch a man and woman engaging in courtship behaviour, or parenting their children, and you can still very clearly see these common differences.
Gender Differences in Receiving
In general, once again we find women to be more skilled at receiving body language and non-verbal messages and then interpreting their meaning. Research has shown this to be true, as women are generally much better at noticing even the most subtly non-verbal cues as well as spotting conflicts between verbal and non-verbal messages. This probably goes back to a woman's pre-programming, but it can also be shown in terms of real physical differences.
When an MRI is taken of a woman receiving a message, her brain will process that message in up to sixteen different, distinct areas. Take an MRI of a man receiving a message, however, and it reveals his brain will process that message in no more than six different, distinct areas. This is why, for example, women tend to do a better job of multi-tasking than men, and also why they do a better job of receiving and responding to multiple messages at the same time or in quick succession. This is also why men tend to have an easier time focusing on one or two things at a time and following them all the way through to completion.
Both Genders Can Learn From the Other
Just because men and women have a number of what seem to be innate difference in sending and receiving non-verbal messages, it is very much possible for either gender to learn and use the general attributes of the other. Men can learn to read and interpret body language quite effectively, and women can learn to tune out the constant stream of messages and focus in on one or two things at a time.
These activities may not be as easy for one gender as they are for the other, but with just a bit of knowledge and a conscious decision to apply that knowledge, either gender can become quite skilled at all aspects of sending and receiving body language signals.
You might also like...