The Body and The Eyes: How Much Do They Tell Us?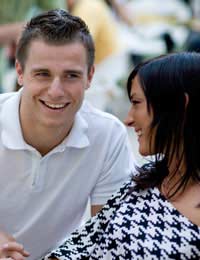 There is an old adage that says the eyes are the windows to the soul and for some people this can be very true. As some people find it difficult to keep their bodies still during the process of telling a lie so some other people find it difficult to keep their eyes from looking in many different directions whilst they lie. Here we look at what the body and the eyes tell us.
Body Language
Body language is something that many psychologists use to study their patients in order to distinguish between certain types of behaviour. An individual's body language is as individual as their face and their personality - albeit tucked away inside their body - is mirrored on the outside by their movement.
An individual during periods of stress or telling lies can behave in a way that may be visible from how their body behaves. For example: a young child in the process of telling a lie might well bite their finger nails. This is a physical manifestation of the act of lying and something that most parents would be able to pick up on.
Likewise an older person may lie and seemingly not give away anything of a physical nature but this is not the case. They may swallow continually as their throat dries. The physical and psychological triggers combining when a lie is told can have the brain tell the individual telling the lie that his or her throat is dry which causes this almost mechanical action.
Others when stressed drum their fingers absentmindedly on their legs or on a desk and this is another physical and psychological combination that can signify that they are uneasy with their surroundings and what they are doing or saying.
The Eyes
If you have ever watched someone tell a lie or struggle to come up with an answer they do certain things with their eyes. For the most part an individual telling a lie will struggle for the lie and will manifest this gap in proceedings by looking in another direction. It is also instinctive that they try and avoid the gaze of the person they are lying to in case their gaze gives too much information.
If an individual looks to the left (their left your right) this means they are usually telling the truth and are struggling to put the words together. And if they are looking to the right (their right your left) some psychologists and counsellors believe this means they are lying and are trying to bide time to think of a suitable lie to continue with.
Eye contact is an important part of any relationship be it personal or professional and many individuals place great emphasis on how a person looks at them or looks away from them during conversations where important information is required or questions are being asked.
It is of course not always the case that an individual exhibiting any of these signals is telling lies - they may simply be nervous. A job interviewee may often exhibit signs of nervousness such as constant fidgeting or looking away from their interviewer simply because they feel nervous about the whole interview process or because they feel an element of doubt as to whether or not they have any likelihood of getting the job.
This is why many people charged with the task of interviewing potential employees are often trained in the art of interview techniques before they begin interviewing prospective applicants.
It is important to note that as you may be able to spot an individual's 'tell' - that special movement or gaze that signifies stress or a lie - that they if they are often in your presence will be able to do the same with you.
Body Language Expert is sponsored by Purely Energy, who have funded a lot of our content. If you are looking for a low cost business energy supplier, take a look at their website.
BODY LANGUAGE EXPERT IS FOR SALE.
This website is for sale [more info].
You might also like...
Adam - Your Question:
My pupils are extremely dilated. I have been a recovering addict for about 8 months. I still have massive anxiety attacks. I have been dealing with one for a few days now could that be the meaning for the dilated pupils?
---
Our Response:
Anxiety can certainly cause the pupils to dilate yes.
BodyLanguageExpert
- 24-May-17 @ 11:44 AM
My pupils are extremely dilated. I have been a recovering addict for about 8 months. I still have massive anxiety attacks. I have been dealing with one for a few days now could that be the meaning for the dilated pupils?
Adam
- 23-May-17 @ 7:37 AM